We are eager to help and support you, if you are passionate about your ICO project and you love what you daily do.
It was held INTERNATIONAL BLOCKCHAIN SUMMIT on March 1, 2018 at the Moscow .
This forum was attended by 30 leading experts and 1000 participants from around the world.
The conference was attended by the speakers of following countries: USA, Israel, Australia, Germany, Italy, Ukraine and Belarus.
These international speakers were:
Richard Maaghul, CEO at ODEM.IO,
Rob May, CEO & Co-Founder of Talla and one of creators of BotChain,
Antonio Ruiz-Jimenez, Managing Partner at ATW Partners,
Konstantin Goltsev, CEO, Founder at SolidOpinion,
Ashley Turing, Jeff McDonald,
Lior Zaks, Lawyer at Crypto currency expert,
Fulvio Dominici, Founder, CTO at ubiatarplay.io,
Sergey Sergienko, Founder at Chronobank,
Dmitry Machikhin, CEO at Midex,
Anatoli Woolf, CEO at Tomahawk Technologies.
Russian speakers, who submitted their forms for participation at the conference, were: Alexey Antonov, CFO SONM, Roman Kaufman from DOOR OPENER, Co-founder at HOQU, Co-founder at IBCG, Misha Granin, NEM Industry Partnership Coordinator.
Full list of speakers is on the website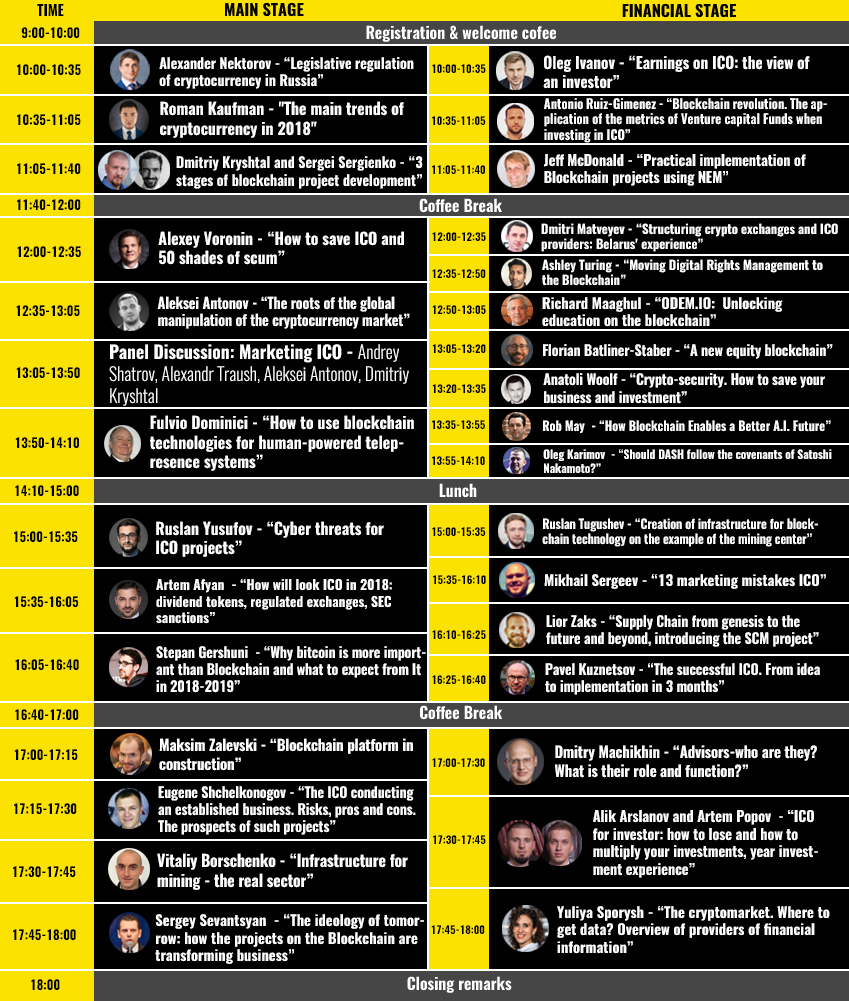 Then participants discussed following topics:
Analytics of development and the ways Blockchain area evolves in future;
The integration of Blockchain technology into business;
Specifics of hosting your own ICO in 2018;
Cryptotrading. Who manipulates the market and what is it that manipulates it?
Mass Media & PR. How to "Kill two birds with one stone" in the New Year;
What are the trends of Blockchain and its future, future of cryptocurrency and ICO?
How to use Blockchain in the financial area and how to make money by working with this technology;
How you can increase your income using cryptocurrency;
What is ICO and how to become an ICO member?
Ways to use cryptocurrency in your business;
Legal aspects of cryptocurrency and the Blockchain.
Later, in the atmosphere of a comfort and ease, both experts and participants of The Summit shared their experience of developing innovative solutions using Blockchain technology. And it goes without saying that the best result of any conference is networking. And it goes without saying that the best result of any conference is networking. Aiming this, comfortable conditions were provided at the Extra Lounge Restaurant which is on the 20th floor overlooking Moscow.
This was the beginning of long-term partnership with client.

We recorded a video on NASDAQ and sent out this video to our private database of several thousands family offices in NY.
So, if you know what is your passion in life, don't waste your time, look for possibilities that will surely come your way if you are persistent and hard-working.
Another Summit will soon take a place in Kiev being organized by the founder of the previously mentioned Summit in Moscow.
On 26 of April another BLOCKCHAIN SUMMIT will take place in KYIV. In the course of two days more than 30 leading experts from around the world will be featured and over 800 participants will be attend it. You will meet investors, founders of companies, developers, miners, traders, lawyers and crypto-enthusiasts. Topics of presentations and speakers talks, you can read by clicking the link: